What a long day, I can barely keep my eyes open right now. We took a little trip to a
REAL CITY
today, as opposed to this backwoods, country town we live in called Mobile. New Orleans is only a 2 hour drive from our house and even though we've lived here for 4 years, today was the first time we visited there....with the exception of a little shopping excursion I took last year:) The main reason for our adventure was so we could go
here: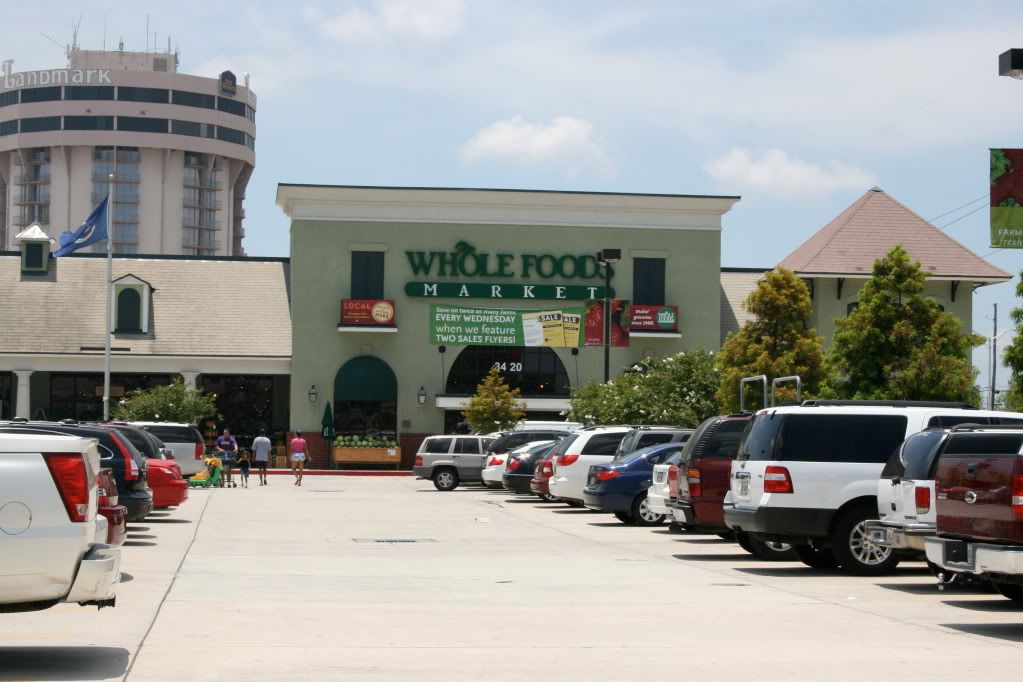 Yup,
GROCERY SHOPPING
! I am disgusted with Mobile's lack of organic groceries, especially when it comes to meat & cheese. So I convinced Rob we needed to take a little road trip, even though he rolled his eyes at me and accused me only eating "snobby beef". BUT, when we got home from our trip today I hear him in the kitchen saying "
I LOVE WHOLE FOODS
!" He was so excited to find a grocery store that gave out so many samples while shopping.....especially of beer & wine!
Unfortunately, Brady did not get to sample those...
After we were done shopping, we packed everything into a cooler and decided to head down to the French Quarter. Here are some photos of our drive in.
OK, so I know you can't see much in this photo because of the guard rail, but we were driving past the
REALLY
old cemeteries and you could see that
MANY
of the mausoleums were destroyed and falling apart, some completely torn open. I remember during the hurricane Katrina mess sitting in our apartment without power and listening to our battery powered radio as they were discussing the mess in New Orleans. They were talking about
dead bodies
that had washed up out of the cemeteries floating down the flooded roads. Eww! After seeing these destroyed mausoleums that's all I can think of - maybe this cemetery is where some of those bodies came from!
This guy was hilarious. It's a real person dressed up like a robot, dancing and doing "robot moves" complete with sound effects. I think he was mad a me that I took his picture and didn't give him any money! He had to have been HOT wearing tin foil and all that paint on his face - it was 100 degrees today!
Here's Rob & Brady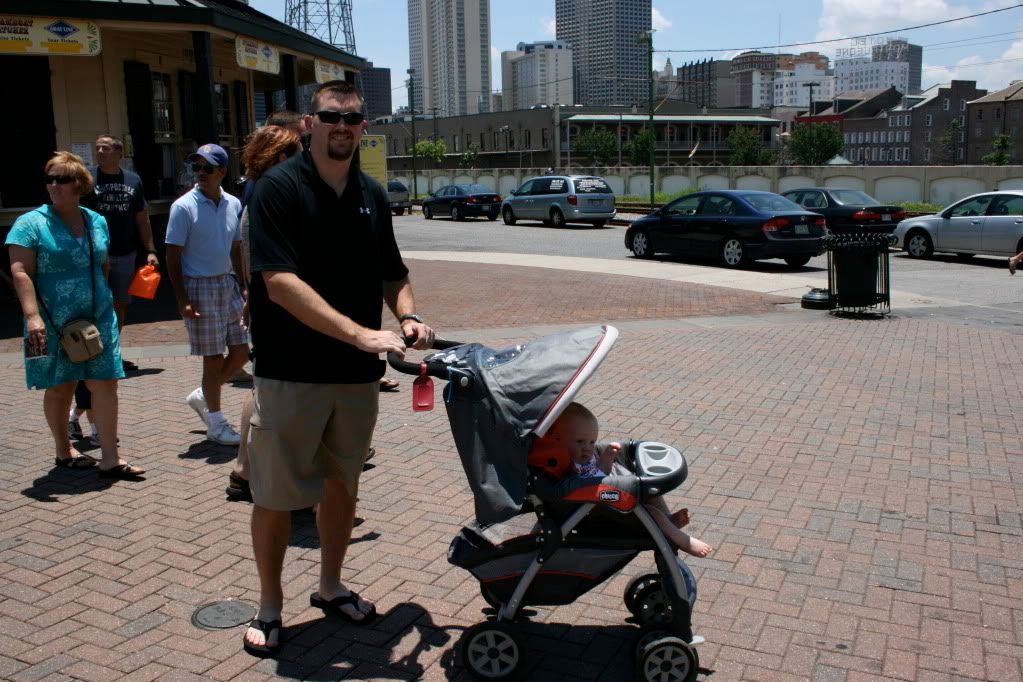 I forget the name of this place, but apparently it's some famous landmark and I thought it was pretty - I know I should remember the name.
Street Car coming into the station...
I took this one for you mom - I know you love the steam boats! Sorry I couldn't get a better picture, it had just pulled in and there was no place for me to stand to get a better shot. 
Rob & I had been talking about taking another trip to New Orleans for the 4th of July weekend, but I think we've decided we're going to pass. It's simply going to be too hot. The heat today was miserable and having Brady makes it even more difficult. Speaking of which....
guess who turned 8 months old today!!!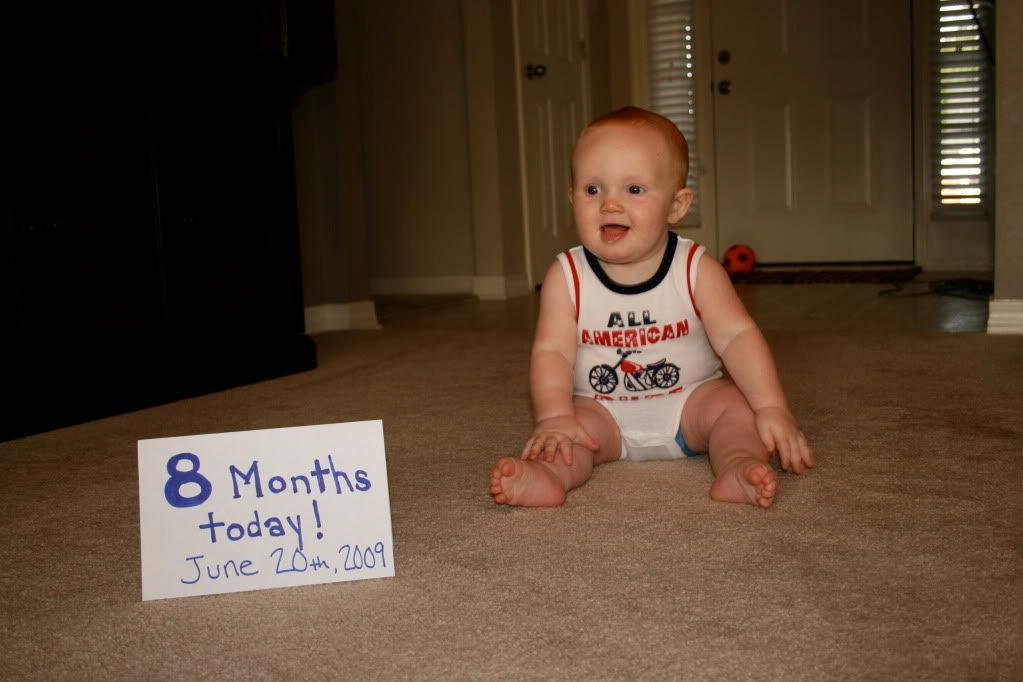 He is trying so hard to crawl, but just can't quite get it. He loves sticking his tongue out, he falls asleep on his own now and sleeps
THROUGH THE NIGHT
! Usually from 7:30p.m. - 6:30 the next morning. Although he's been doing this now for a couple months - thank goodness, cause I was about to lose my mind! Frank is his best friend and anything he does is the funniest thing ever - I've never seen a baby laugh so hard before. We plan on trying some egg yolks and beef this week - yay for our organic grass-fed beef we bought today at
Rob's new favorite store!