Whew! We have officially reached that part of the year where I refuse to go outside. Today's high was supposedly 99 with a heat index of 107, but as you can see from the thermometer on our back door it was a little higher - and this picture was taken around 5:30 this evening, NOT during the middle of the day. Ugh, I miss snow!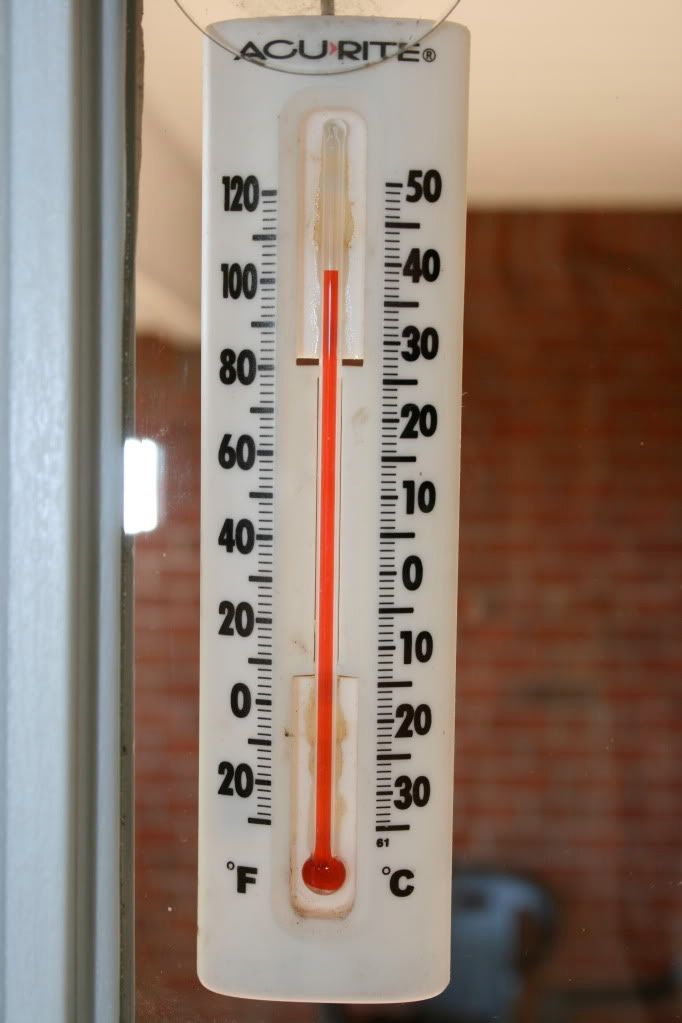 Of course what else is a wiener dog supposed to do when it's this hot out? Poor Frank doesn't even get to go on walks with us anymore, he's can't handle the heat. We had to stop taking him a couple weeks ago when he started laying down in the grass and hiding under cars to stay in the shade during the middle of a walk because he was too hot to finish. Poor thing, I think he's mad at us because of this. 
Here's a sneak peak at Rob's Father's Day present. I dressed Brady up in one of his ties and bought some D-A-D wooden letters and painted them black. I was trying to get a decent picture of him holding each one, but our photo shoot didn't go so well. It was very hard trying to get him to look at the camera and hold each letter in a way that you could actually see it. Instead I bought one of those "photo cubes" and am going to put a few of these pictures in it as well as some others and give it to him. I don't think he has any pictures of Brady at the pharmacy so this will be a good way to display a lot of photos without taking up much space.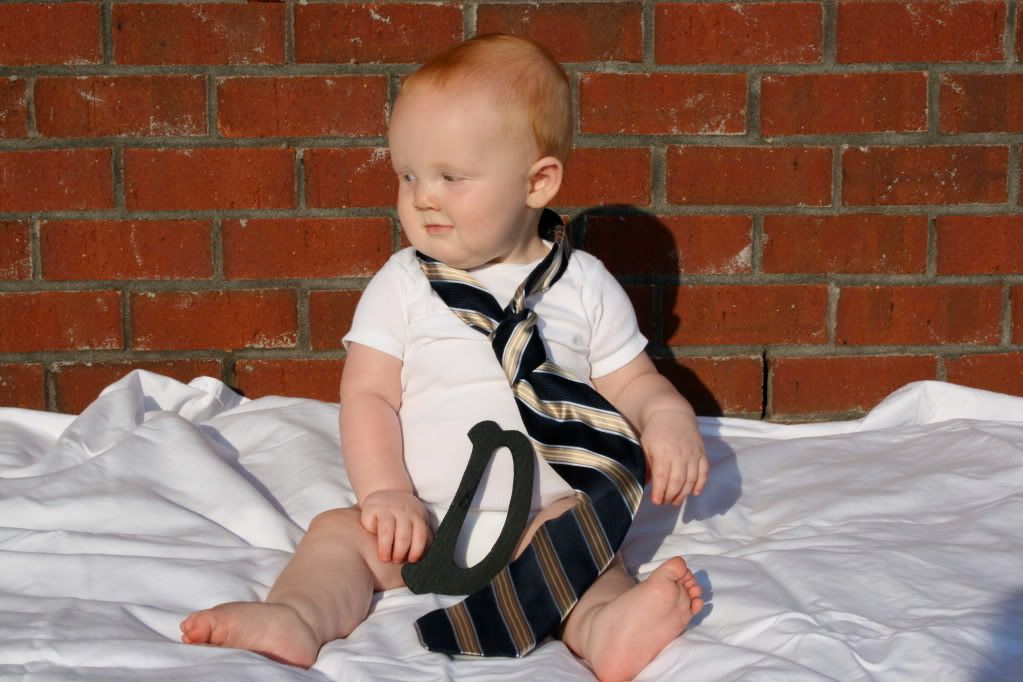 Here's Brady hangin' in the laundry basket with his clean dipes, we had just taken then down off the clothes line. That is the one good thing about this heat - I can use the line and clothes dry VERY quickly!......and yes, I know I'm a redneck hippie for using a clothes line, laugh if you must. 
I bought Brady Mr. Ducky to bathe in and he LOVES it. Now he can finally sit up and play with some toys. Too bad he's almost already too big for it. On the package it said for ages 6 months - 2 years, yeah right! Not when your 7 month old is as big as a 2 year old! Speaking of which, he will officially be 8 months old tomorrow!
Did you ever see a cuter face? Aww, my own real life Kewpie doll!
"Mom, that camera is scaring me!"
Brady got a package in the mail from Grandma A. on Thursday with a new outfit in it! He was VERY excited! Thanks Grandma!
Here he is modeling his new clothes! See that tongue hanging out? He's been doing that a lot lately. Rob calls it his "Michael Jordan tongue". What's really gross is that Frank likes to lick his face when I'm not looking and I know he's gotten a few good licks of this already. Of course Brady squeels and thinks it's the funniest thing ever. EWWW!
And lastly we had some "nakkie time" tonight. Brady's got some red bumps on his belly where the top of his diaper hits and I was trying to air him out. I don't think it's diaper rash, but maybe more of a heat rash. Hopefully it clears up soon.
P.S.   I'm trying out a new format tonight - hopefully the pictures appear a lot bigger than normal.